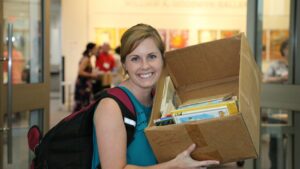 The near-endless selection of your favorite books and other items is coming to the Benjamin L. Hooks Central Library (3030 Poplar Ave.) for the Friends of the Library Spring Book Sale. Mark your family's calendar for 9 a.m. – 4:30 p.m. on Friday, May 24 and Saturday, May 25, 2019.
"Our book sales are not like watching paint dry," noted Friends of the Library President Jacqueline Wallace. "They are full of excitement, fun activities, and an amazing selection of books and other items."
Kids will enjoy face painting, food trucks and free popcorn, while parents shop from a variety of DVDs, CDs, vinyl records, specialty books, sheet music and more – all for $2 or less!
"You cannot beat the prices! You really can't, because if you look on the inside of some these, they are $28 books and they look new. Now that I'm here, I want to get every book that I can. We're glad we came," said a few book sale shoppers at last year's record-breaking spring sale.
A complete price list is below.
Friends Spring Book Sale Price List
Hardbacks
$2
Paperbacks
$1
Children's hardbacks
$1
Children's paperbacks
$0.50
Records
$0.50
Cassettes
$0.25
Loose Magazines
$0.25
CDs
$1
DVDs
$2
Sheet Music
$0.25
Saturday shoppers will also meet Rockey the Redbird and take selfie, while promoting literacy in Memphis.
"Literacy is the most basic currency of the knowledge economy. We want everyone in our community to be rich in knowledge. Our book sales help to lead with literacy because you're never too old to enjoy a good book," Wallace concluded.
For more information about Memphis Library Friends or the upcoming book sale, call 901-415-2840