Want to make new friends? Volunteer at Memphis Public Libraries! There's something for everyone, regardless of your age or interests. We need YOU to volunteer 2-3 hours a week!
College-bound students can build their resumes through needed volunteer hours, while adults and seniors can help others, support Libraries and make new friends!
(Volunteers must be 14 years of age or older.)
Click here to find a volunteer opportunity, pick up a volunteer application from any Memphis Public Library location, or call 901-415-2840. (We'll contact you and put you to work as soon as the screening process is complete and your volunteer assignment is confirmed!)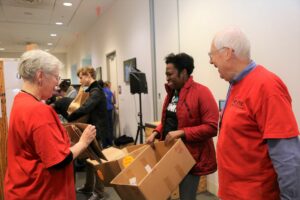 Volunteer positions include:
Welcome Desk
Greets visitors at the Central Library, answers questions and provides directions for library customers, three hour weekly shift desired 
Second Editions Bookstore
Central Library; sales associate at Second Editions, assist customers finding books, shelve and arrange books, operate cash register, 3-4 hours per week desired 
Computer Assistant
All locations; assists customers who are trying to use library computers with getting started, using library catalogue to locate items, learning how to print, setting up email accounts, perform basic word processing functions, and troubleshooting, 3-4 hour shift once per month minimum desired 
Radio Reader
Central Library; read for WYPL FM 89.3 in either live broadcasting of The Commercial Appeal or booth recordings of magazines and newspapers, 2-4 hours per week desired CLOUD901 (Teen Learning Lab)
Central Library; assist with training, mentoring, or facilitating youth in Cloud 901. Must have skills to use various forms of technology & equipment, along with the ability to work with youth. 
Genealogy Assistant
Central Library; assists customers with genealogical research or in use of microfilm machines 
Memphis and Shelby County Room
Central Library; abstract primary source materials by doing summarizing, file historical materials, index materials according to established procedures, 2-3 hours per week desired 
Office or Data Entry
Many locations; assist with office needs including, filing, copying, collating, mailings, or doing data entry, 2-3 hours per week desired 
Branch Shelving Assistant
All branches; shelve books, magazines or newspapers, box donated books, or provide general assistance at the branches, 2-3 hours per weeks desired 
Summer Reading
Many locations; assist with summer reading program and associated programs, intensive eight week summer program, 2 hours approximately 2-3 times each week for the duration of the summer program 
Docent
Central Library; gives tours to school and adult groups from the community, usually docents also work at the Welcome Desk to become increasingly familiar with library services and programs which are helpful in giving tours, three hour weekly shift desired.