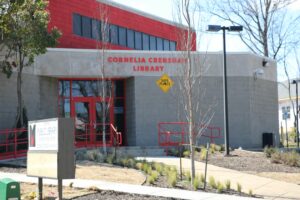 Entering the doors of Cornelia Crenshaw Branch Library (531 Vance Ave.) might feel like home. A warm welcome from staff members and overall family feel has made this small but impactful library a main attraction in South Memphis for generations. Named after Civil Rights activist and trailblazer Cornelia Crenshaw and only blocks away from the local headquarters of the NAACP, this historic haven is rich with culture, Southern hospitality and a love for learning. This can be seen by the DiscoverREAD Learning Center for kids and parents that encourages family time and educational play; the rows of computers for public use; creative and fun library displays about current events or upcoming holidays; and shelves of books on a near-endless variety of topics.
"Every day, we try to make a difference in Memphis, one customer at a time, one interaction at a time," said Branch Manager Inger Upchurch. "There's nothing more rewarding than to see smiles on customers' faces after they've polished their resumes or attended a library program or holiday party. We identify our customers' needs and work to supply that. But, working with the kids is the best! Making a difference for them is certainly a long-standing passion of mine."
But one thing Cornelia Crenshaw Library doesn't have is Friends. This literary force in South Memphis needs a driver, and we hope that person to start a Friends organization to raise funds and support programs, events, and other needs at Cornelia Crenshaw Library is you!
"Everyone could use a 'Friend,'" Upchurch continued, "and by becoming our Friend, you will make many more friends than you could ever imagine!"
For more information on how to start a Friends group at Cornelia Crenshaw Library, call 901-415-2840.