Memphis Library Friends are making Shelby County senior citizens' older years their golden years, through new programs and events like the Senior Health Fair.
Hosted at the Benjamin L. Hooks Central Library (3030 Poplar Ave.), the event attracted more than 1,500 attendees and 70 vendors offered valuable information about health, nutrition, cooking, exercise, orthopedics, travel and more! Food trucks and seminars on fall prevention and how to lead healthy lifestyle also added to customers' experience.
"Friends were looking for a signature event for adults. This idea came from our Memphis Public Libraries' Adult Services Librarian Wang-Ying Glasgow, and we loved it!" said Friends President Jacqueline Wallace. "We plan to make this an annual event."
When asked how she arrive at the idea, Glasgow commented, "The idea came to me, instead of the other way around. We wanted to improve the quality of life for seniors. Through other programs and partnerships with other agencies, we wanted to offer a centrally-located health fair that would benefit seniors."
Using a model similar to Memphis Public Libraries' annual Bookstock, the Adult Services Group and Friends of the Library developed the concept but with a health care twist. After assembling a committee to plan the fair, Glasgow said the event "sold itself," as vendors lined up to participate.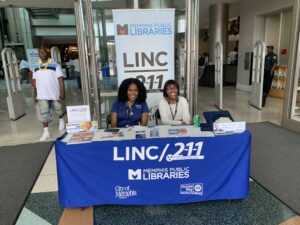 "One thing vendors and seniors really liked was the nonprofit, non-soliciting approach. Vendors said they loved having the event at Central Library because it is centrally-located and best of all – free to participate," Glasgow said.
"As the sole sponsor of the Fair, Friends were great," Glasgow continued. "They purchased sturdy bags for everyone who entered to collect their information and offered free refreshments. The Friends didn't just give money alone; they were involved, and all the hard work paid off!"
For more information about the next Senior Health Fair, call 901-415-2840.