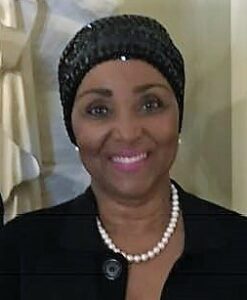 Get to know the Friends of the Library President Jacqueline Wallace through this one-on-one discussion about the Friends' mission, programs, new initiatives and more. Join the conversation by emailing your questions to [email protected].
How did you get involved with Friends?
I initially got involved with Friends because I was a home-school mom, and I was visiting the library to teach my children the old-fashioned way to do research. The Frayser Library was having a Friends of the Library event. I had actually never heard of the Friends of the Library event. A Friends member approached me and asked if I would join Friends. They told me all about Friends and invited me to join the Board and come to a Board meeting. I came to a few Board meetings, I became interested in their efforts, and I became a member. That was around 12 years ago.
How would you describe your years as a Friend of the Library and as Friends President?
My three years as president have been more than exciting! Initially, I was a very reluctant president. I had had cancer, and I had taken off for around a year. I was trying to decide how to use my time and talents.
I wanted to try something new and different in my life. I finally decided to become president, and it has been a whirlwind of an exhilarating experience. I have thoroughly enjoyed it so far!
How would you describe your leadership style?
When Friends and supporters come to me with ideas, as president, I want to encourage those ideas. I'm all about trying because I want everyone in this city to know who Friends of the Library are.
In my three years as president, we have gone from around 500 Friends to around 1,300 Friends memberships, and I want that number to grow to 5,000 or more.
The Friends' call-to-action is "Donate. Volunteer. Join." Could you explain that mantra?
"Donate. Volunteer. Join" is a three-legged stool that I like to call the call-to-action for all that we do as Friends of the Library. Number one is "Donate." Donate books, magazines, CDs, DVDs, VHS and sheet music. Absolutely nothing will go to waste. We want it all!
If you are a donor with an enormous donation of books, contact the library, and we will arrange to have your items picked up. The books that people donate – that's how we get our monies – 100 percent. Every penny is turned around and put back into the library because we all are volunteers, so I'm excited that we're able to help fund more than 6,000 programs for the Library.
Number two is "Volunteer." Volunteer in your community at different branches. When you volunteer, become a Friend or start a Friends group, the potential of what you can offer your community through Friends is absolutely unlimited to make your community safer, more literate, fun and a great place for your children to grow.
The next thing we want you to do is "Join" the Friends. Your Library card is not the same as a Friends membership. We have 17 Library branches. People can join the Friends in their different communities. To get started, you have a budget, you have people and you know the unique nuances in your community. Friends work with the Library branch manager to bring to your community the things that you want to see!
What are some of the benefits of joining Friends?
When you join Friends, you become an advocate for the library. As a member of Friends, you will enjoy a discount when you come into our Second Editions Bookstore – 10 percent every single day. And at the preview sale for our book sales twice a year, you get to come to the preview party, which is a masquerade party because it is in October and you get first picks at books, magazines and other items. It's not your average book sale, which could be like watching paint dry. It's a party atmosphere!
A new membership benefit is that you also have access to the City of Memphis Credit Union. You also receive a very nice membership bag. You get priority seating at Friends events, like Five Fridays of Jazz and a beverage of your choice. The benefits are many, so "Donate.  Volunteer. Join."