Making a house feel more like home for Mid-South families is the purpose of a new partnership between the Memphis Library Friends and Habitat for Humanity of Greater Memphis. The new literacy initiative, which started earlier this year, benefits Habitat for Humanity homeowners throughout Shelby County by including a new bookcase and books for every family member in each new home.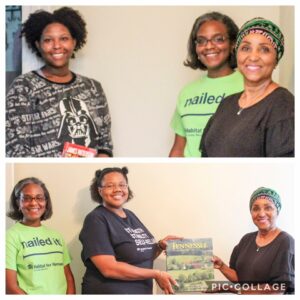 Friends of the Library President Jacqueline Wallace helped to spearhead the program.
"We want each home to be a haven for an opportunity to have well-read children. Habitat for Humanity informs Friends about the specifics for each family, like their ages and reading genre, and we fill bookcases from there," Wallace said.
Friends' bookcases and books have already found new homes in Shelby County Habitat for Humanity areas. Homeowner Tawana Clemons was one of the first to receive a new home library. "I have always taught my children that the best gift you can give or receive is knowledge," Clemons said. "Thank you so much for thinking of my family for such a blessing!"
"We at Habitat for Humanity of Greater Memphis are so pleased that the Friends of the Library is donating new bookcases and gently-used books to every new Habitat homeowner in Shelby County," noted Juliet Douglas of Habitat for Humanity. "Better, affordable living conditions lead to stronger childhood development, and access to more books is an important part of that. We greatly appreciate the generosity of the Friends and look forward to delighting many more families through this wonderful endeavor!"
For more information about this new literacy initiative, call 901-415-2840.